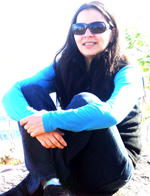 Suchi Designs is based out of Kingston, ON, Canada. Suchi has over 10 years of design experience and is professionally trained.
She has applied her fine arts background to producing stellar web and graphic designs for companies throughout the world. As a Designer, Suchi is responsible for designing, building, maintaining and trouble shooting its client web sites. She has an ability to create, produce and manage graphic design projects from conception to final artwork production.
She also has skills in customer service, purchasing, database and inventory management, warehouse organization, creation of trade show displays and processing of retail transactions.
Suchi wants to apply her business experience and design expertise to help clients achieve their goals.